Parasite (Huba) with English subtitles!
PARASITE (Huba) dir. Anka & Wilhelm Sasnal
- with English subtitles!

at Kino Pod Baranami from October 24, 2014
Cinema Pod Baranami invites English-speaking audience to the screenings of Polish film
Parasite
(
Huba
) directed by
Anka and Wilhelm Sasnal
. The film - which officially premiered in Berlin Film Festival 2014 - is shown
with English subtitles
.
Anka and Wilhelm Sasnal, two of the most interesting artists working in Poland today, made their third feature-length film with an actress and a man who'd never acted before. Its aesthetic radicalism and almost unbearable immediacy are of a strange and tender beauty. (
extract from Berlinale catalogue
)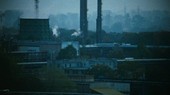 Huba
(
Parasite
) is a film about an ailing old man and a young mother. After retiring from the factory, the man, deprived of his daily routine, loses control over his time. Unable to eat or sleep, he starts drying up. The mother and child are like a single organism. Yet their relationship is, for all its closeness, one of dependence and inequality. The child, whose attachment to life is the strongest, is ravenous and needy; the woman, though enjoying a brief moment of freedom, is doomed to be a victim, while the old man has nothing to keep him going now that he can no longer work at the factory. When the three of them try to have a life together, they are like the Holy Family reversed. Brought together by chance, their lives intertwine in a web of oppression. The film follows their daily existence and slow decline.
(Anka Sasnal)
Wilhelm Sasnal
is a painter, illustrator and comic strip artist; currently the most expensive living Polish artist, whose works typically sell for several hundred thousand dollars at international auctions, and who rose to prominence after being "discovered" by Saatchi. Sasnal studied architecture at the Kraków University of Technology in 1992-1994, and in 1994-1999 painting at the Academy of Fine Arts in Kraków (diploma under prof. Leszek Misiak). In 1999 he received the Grand Prix at the Painting Biennale Bielska Jesień and in 2003 - the Pegaz prize for art. In 2006 Wilhelm Sasnal came first in Flash Art's ranking of the world's 100 best young artists. The same year he received the Vincent van Gogh Biennial Award for Contemporary Art in Europe and exhibited his films (
The River
,
Camera
and
Kodachrom
). Sasnal is working on film projects together with his wife, Anka.
TICKETS:
20 PLN
(regular - weekend)
18 PLN
(regular - week days)
14 PLN
(discount)
12 PLN
(senior)
ABOUT THE FILM:

PARASITE
|
HUBA

dir. Anka Sasnal, Wilhelm Sasnal, Poland 2014, 66'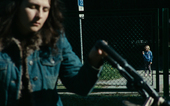 Berlin International Film Festival 2014: official premiere, Forum section
Ars Independent Katowice 2014: Black Horse, best film
43. Montreal Festival of New Cinema 2014: winner of the competition section LAB
14. New Horizons Film Festival: polish films competition, 2. award in audience competition


An old man who bears the scars of a life of factory work. A woman, alone apart from her small baby, who moves in with him. The film sketches out the day-to-day lives of the three of them, taking in their cramped quarters and mutual dependency, thrown back on bare existence.
The camera records and stages in equal measure: three bodies at the beginning of life, at its end and somewhere in between. Need, self-sacrifice, decline. And again and again, the inescapable necessity to eat. Along with the infant's cries, the only sounds to pierce their otherwise wordless life together are those of smacking lips, slurping and chewing, which together with the noises of their surrounding environment build to a tense crescendo. Finally, a nocturnal foray out into life, a moment of great intimacy and a brief sense of release.

Polish Films in English PARTNERS: