On our screens
from January 14 to January 20, 2022:
BELFAST | BELFAST
(Kenneth Branagh) GB 2021, 98'
(in English with Polish subtitles)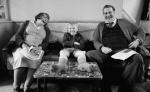 A coming-of-age drama set during the tumult of late-1960s Northern Ireland, the film follows young Buddy (Jude Hill) as he navigates a landscape of working-class struggle, sweeping cultural changes, and sectarian violence. Buddy dreams of a glamorous future that will whisk him far from the Troubles, but, in the meantime, he finds consolation in his charismatic Pa (Jamie Dornan) and Ma (Caitríona Balfe), and his spry, tale-spinning grandparents (Ciarán Hinds and Judi Dench).
C'MON C'MON | C'MON C'MON
(Mike Mills) US 2021, 109'
(in English with Polish subtitles)
When his sister asks him to look after her son, a radio journalist embarks on a cross-country trip with his energetic nephew to show him life away from Los Angeles.
HOUSE OF GUCCI | HOUSE OF GUCCI
(Ridley Scott) US 2021, 157'
Spanning three decades of love, betrayal, decadence, revenge, and ultimately murder, we see what a name means, what it's worth, and how far a family will go for control.
LICORICE PIZZA | LICORICE PIZZA
(Paul Thomas Anderson) US 2021, 133'
(in English with Polish subtitles)
Licorice Pizza is the story of Alana Kane and Gary Valentine growing up, running around and falling in love in the San Fernando Valley, 1973. Written and Directed by Paul Thomas Anderson, the film tracks the treacherous navigation of first love.
SUMMER OF SOUL | SUMMER OF SOUL
(Ahmir "Questlove" Thompson) US 2021, 118'
(in English with Polish subtitles)

Photo Courtesy of Searchlight Pictures. © 2021 20th Century Studios All Rights Reserved
In his acclaimed debut as a filmmaker, Ahmir "Questlove" Thompson presents a powerful and transporting documentary—part music film, part historical record created around an epic event that celebrated Black history, culture and fashion. Over the course of six weeks in the summer of 1969, just one hundred miles south of Woodstock, The Harlem Cultural Festival was filmed in Mount Morris Park (now Marcus Garvey Park). The footage was never seen and largely forgotten–until now. Summer of Soul shines a light on the importance of history to our spiritual well-being and stands as a testament to the healing power of music during times of unrest, both past and present. The feature includes never-before-seen concert performances by Stevie Wonder, Nina Simone, Sly & the Family Stone, Gladys Knight & the Pips, Mahalia Jackson, B.B. King, The 5th Dimension and more.
THE CARD COUNTER | THE CARD COUNTER
(Paul Schrader) US/GB/CN/CH 2021, 111'
(in English with Polish subtitles)
Redemption is the long game in Paul Schrader's The Card Counter. Told with Schrader's trademark cinematic intensity, the revenge thriller tells the story of an ex-military interrogator turned gambler haunted by the ghosts of his past.
THE KING'S MAN | THE KING'S MAN
(Matthew Vaughn) US 2021, 131'
(in English with Polish subtitles)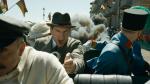 In the early years of the 20th century, the Kingsman agency is formed to stand against a cabal plotting a war to wipe out millions.
THE LOST DAUGHTER | THE LOST DAUGHTER
(Maggie Gyllenhaal) US/GR 2021, 122'
(in English with Polish subtitles)
Alone on a seaside vacation, Leda becomes consumed with a young mother and daughter as she watches them on the beach. Unnerved by their compelling relationship, Leda is overwhelmed by her own memories of the terror, confusion and intensity of early motherhood.
TITANE | TITANE
(Julia Ducournau) FR/BE 2021, 108'
(in French with Polish and English subtitles)
Only for adult viewers.
Following a series of unexplained crimes, a father is reunited with the son who has been missing for 10 years. Titane : A metal highly resistant to heat and corrosion, with high tensile strength alloys.


You can also watch films on our online platform: www.e-kinopodbaranami.pl.
ABOUT KINO POD BARANAMI - read HERE