| | |
| --- | --- |
| | Film Marathon with the Before Trilogy by Richard Linklater |
FILM MARATHON
with the Before Trilogy by Richard Linklater
Kino Pod Baranami
Saturday, February 18, 2017, start: 8.45 p.m.
Kino Pod Baranami invites all English-speaking viewers to a film marathon with the legendary Before Trilogy by Richard Linklater. On screen: Before Sunrise, Before Sunset and Before Midnight with witty dialogue and magnificent performances of Ethan Hawke and Julie Delpy.
Not many people can evoke human emotions as well as the award winning American director Richard Linklater (Boyhood). The viewers of Kino Pod Baranami will have a chance to be swept away by his stories on Saturday, February 18, during a night film marathon, inspired by Kino Muza in Poznań.
Julie Delpy and Ethan Hawke as Celine and Jesse, will fall in love with each other in Before Sunrise, a romantic film awarded with a Silver Bear in Berlin. They will spend a night together, talking and roaming the streets of Vienna. In Before Sunset, they will meet again in a tiny bookstore in Paris. Full of longing and disappointment, they will try to find out, whether their feelings for each other survived the nine years of separation. The film will be screened using 35mm print.
The evening will end with a screening of Before Midnight, in which the main characters have been in a relationship for a few years and are now going on holiday to Greece. Initial infatuation has somewhat faded, they have both matured and with that their relationship has also changed, now scarred with grudges and regrets. Julie Delpy received a Golden Globe for her role in this film and thanks to the script, which she and Ethan Hawke co-wrote, both Before Sunset and Before Midnight received Oscar nominations.
This fascinating trilogy is not just romantic gestures and love confessions. Most of all, it provides a profound insight into human emotions and different stages of a love relationship. Instead of ending his story with a simple 'and they lived happily ever after', Linklater brings his audiences a look on what happened next.

TICKETS:
22 PLN (regular)
15 PLN (discount)
13 PLN (senior)
Entry pass (3 films): 40 PLN
*In order to buy the entry pass online, please contact us at: kasa@kinopodbaranami.pl
Saturday, February 18, 2017
20.45 BEFORE SUNRISE | BEFORE SUNRISE
dir. Richard Linklater, USA 1994, 97'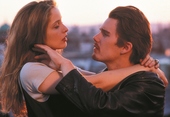 A French student Celine (Julie Delpy) and an American tourist, Jesse (Ethan Hawke) meet on a train to Vienna. She is on her way to Paris, where she's supposed to start her studies at Sorbonne. He is going to Vienna to catch a plane back to the States. From the very beginning, something draws them to each other. They start to talk, have lunch on the train and when they reach Vienna, Jesse persuades Celine to get off the train with him. Slowly small talk changes into serious conversation and curiosity becomes mutual fascination.
22.35 BEFORE SUNSET | BEFORE SUNSET
dir. Richard Linklater, USA 2004, 80'
Nine years after the two strangers met on a train to Vienna, they bump into each other again, in Paris. On a tour to promote his new book, Jesse (Hawke) spots Celine (Delpy) in a small bookstore. She lives in Paris now, he has a life in New York. Jesse has a flight home on the same evening, so they have only a few hours to see whether their feelings are still the same as they were nine years before in Vienna.
23.55 BEFORE MIDNIGHT | BEFORE MIDNIGHT
dir. Richard Linklater, USA 2013, 108'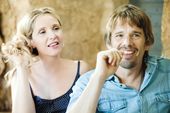 They met for the first time 'before sunrise' in Vienna. Nine years later, they bumped into each other 'before sunset' in Paris. Jesse (Hawke) and Celine (Delpy) have been together for seven years and now they're going to spend their holiday in Greece. Whatever happens, it will definitely be full of humour, witty comebacks and emotions even more intense than ever before. This summer they will get to know each other even better.