| | |
| --- | --- |
| | Special screening of THE EPIC OF EVEREST (1924) with live music by KARPATY MAGICZNE |
Silent Film Festival at the 56th Krakow Film Festival
- special screening of the silent film THE EPIC OF EVEREST (1924)
with live music by KARPATY MAGICZNE

Saturday, June 4th, 2016, 6 p.m.
Małopolski Ogród Sztuki (Rajska 12 Street)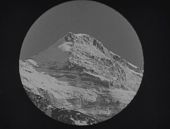 Kino Pod Baranami and Fundacja Dla Kina present a special screening of a silent documentary film with live music which will take place at the 56th Krakow Film Festival. The Epic of Everest (1924), along with accompanying music by the experimental, avant-garde, folk band Karpaty Magiczne is a prelude to the 17th edition of the Silent Film Festival (December 1-4).

The upcoming show is the result of cooperation between Silent Film Festival and Krakow Film Festival, which has been presenting and awarding the most interesting and innovative documentaries from around the world. The organisers of Silent Film Festival aim to reveal the beginnings of the documentary genre.

For over a hundred years now the camera has been a companion to travelers, explorers and researchers during their expeditions into the unknown. The Epic of Everest depicts the third-ever expedition to the Roof of the World, consisting of the greatest mountaineers of the era: Andrew Irvine and George Mallory.

The film will be presented in a digitally restored version with English intertitles and Polish subtitles.

Live music to the movie will be performed by the band Karpaty Magiczne (Magic Carpathians), which - by the original sounds of unusual instruments - is trying to reach to the heart of the oldest musical traditions. The group is composed of: Anna Nacher (voice, tanpuras, electronics), Marek Styczyński (traditional and new wind instruments, Moog synthesizer, percussion instruments, modified santoor dulcimer), Jan Kubek (tabla and other percussion instruments) and Dawid Adrjanczyk (electronic organ).

Previous screening of The Epic of Everest with live music by Karpaty Magiczne was the highlight of the 15th Silent Film Festival in 2014.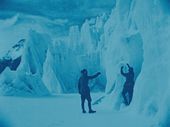 TICKETS:
35 PLN (until May 26)
40 PLN (since May 27)
20 PLN (with 56. KFF pass)

Tickets available online, at Kino Pod Baranami (since May 15) and at Małopolski Ogród Sztuki (since May 29).


ABOUT THE FILM:

THE EPIC OF EVEREST:
THE OFFICIAL RECORD OF MALLORY AND IRVINE'S 1924 EXPEDITION
dir. John Noel, GB 1924, 87'
(film restored by the the BFI's National Archive in London)
(English intertitles with Polish subtitles)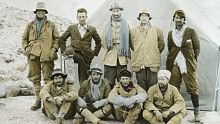 The 1924 Mount Everest expedition - the third-ever attempt to climb the Roof of the World - culminated in the deaths of two of the finest climbers of their generation, George Mallory and Andrew Irvine, and sparked an on-going debate over whether or not they did indeed reach the summit.

Filming in brutally harsh conditions with a hand-cranked camera, Captain John Noel captured images of breathtaking beauty and considerable historic significance. The film is also among the earliest filmed records of life in Tibet and features sequences at Phari Dzong (Pagri), Shekar Dzong (Xegar) and Rongbuk monastery. The restoration by the BFI National Archive has transformed the quality of the surviving elements of the film and reintroduced the original coloured tints and tones.




KARPATY MAGICZNE (Magic Carpathians)




THE MAGIC CARPATHIANS PROJECT has been active since 1998, established by Anna Nacher and Marek Styczyński (who previously had been a leader of Theatre of Sound ATMAN). Influenced by musical traditions of Eastern and Central Europe (most notably the multicultural region of Carpathians mountains, spanning through Romania, Hungary, Ukraine, Poland and Slovakia), free jazz, the philosophy of sound of classical Indian music and contemporary classic the duo creates compositions based on improvisation using plethora of traditional instruments from Asia, Europa and Australia. Nacher and Styczyński often perform with guest musicians.

// Official site
// Facebook
// MySpace