| | |
| --- | --- |
| | |
OTHER THAN OTHERS is noteworthy one of the first portrayals of homosexuals in the cinema. It was produced during the Weimar Republic and tells a story about successful violinist, Paul Körner, who falls in love with one of his male students. A sleazy extortionist threatens to expose Körner as a homosexual...

Silent Film - OTHER THAN OTHERS - with LIVE MUSIC:
SzaZa - duet Szamburski / Zakrocki.


MUSIC
It's unusual combination of opposites - noise and silence, pop and contemporary intimate sound, beauty and ugliness, and subtle wisdom with naïve thoughtlessness. With clarinet and violin they unite all that oppositions and liberate audience from stiff rules.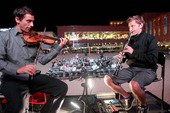 BIO
Patryk and Paweł are musicians, improvisers, animators. Since 1999 they have been acting actively in composing and performing improvised music and independent art.
They took a part in diffrent projects such as - Tupika, Meritum, Meoma, Horny Trees, Cukunft, clarinet quartet Ircha Pneumatic, Zakład Produkcji Dźwięku ant many others which names they even don't remember…
SzaZa creates music for theatre, movies, silent films and contemporary dance.

www.myspace.com/szamburski
www.myspace.com/zakrocki
www.ladoabc.com

Screening within the Love Among OTHERS Festival.