Kinobranie - 13. Summer Film Festival
KINOBRANIE
13. Summer Film Festival
at Kino Pod Baranami
June 28 - August 29, 2019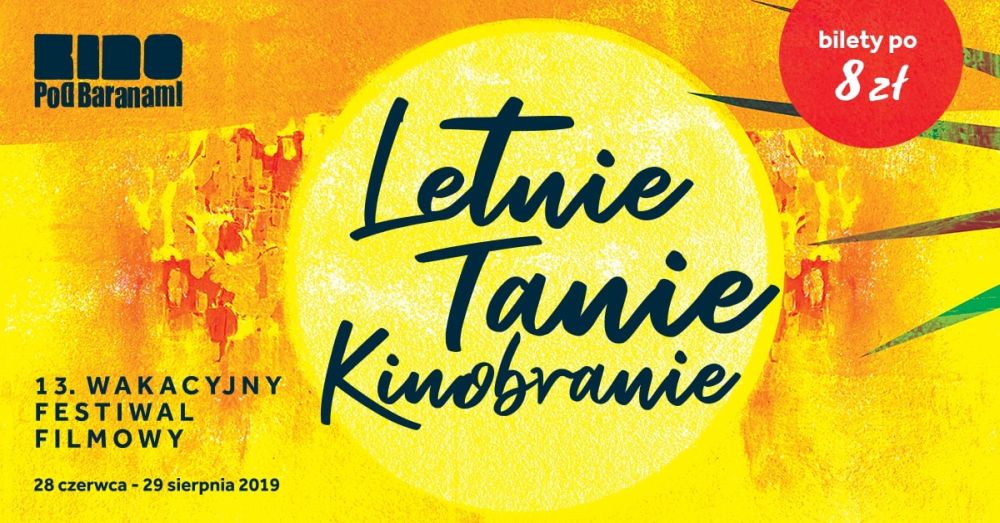 Kino Pod Baranami presents 13th Summer Film Festival "Kinobranie". During 9 weeks nearly 130 films will be screened. Tickets cost 8 PLN. Selected Polish and foreign films will be presented with English subtitles.

Even the smallest child knows, that cinema is an art of emotions. During the 13th edition of the Summer Film Festival, which starts on June 28 at Kino Pod Baranami, the viewers will have a chance to experience all of them. Astonishment, delight, perhaps also shouts of terror and loud laughter will fill up the cinema halls during nine weeks of this unique film festival.

The programme of the festival, co-created by viewers themselves, includes absolute film classics and new cinema hits. Among classical films are Roman Holidays, Breakfast at Tiffany's, Streetcar Named Desire and La Strada. The long list of novelties holds many winners of prestigious awards (including the Oscars), for example: Green Book, Vice, The Favorite or BlackKklansman. Polish cinema plays an important role in Kinobranie's program and will be represented by such films as: Dark, Almost Night, A Coach's Daughter, Clergy and Cold War.

Summer Film Festival at Kino Pod Baranami offers also film trips to many foreign countries. The viewers will have an opportunity to visit, among others, France (Serial (Bad) Weddings, C'est la vie!), Italy (My Big Gay Italian Wedding, Loro, Dogman), numerous Asian (Ramen Teh, Crazy Rich Asians, Shoplifters) and Scandinavian countries (The Guilty, Under The Tree, Fanny and Alexander).

Kinobranie is also an occasion to watch well-known and popular film genres. The programme includes modern horrors (Us, Hereditary, Suspiria), hilarious comedies (I Feel Pretty, Julius, Planet Single 3), gripping crime stories (Dark, Almost Night, The Girl in the Spider's Web, Beast), and musicals filled with immortal hits (La La Land, Mamma Mia: Here We Go Again, Bohemian Rhapsody).

Summer Film Festival presents both the works of renowned artists (including Lars von Trier, Asghar Farhadi, Yorgos Lanthimos, Jim Jarmusch, Paolo Sorrentino, Bernardo Bertolucci) and actors-directors such as Clint Eastwood, Bradley Cooper, Ralph Fiennes and Paul Dano. The cinema screen will be filled with stars: older masters of acting (Christian Bale, Glenn Close, Javier Bardem, Charlize Theron, Antonio Banderas) and young talents (Timothée Chalamet, Saoirse Ronan, Lucas Hedges, Lupita Nyong'o, Raffey Cassidy).

Kinobranie consists not only of traditional cinema screenings, but also numerous accompanying events, such as Plakatobranie (film poster market), outdoor screenings at the courtyard of Pod Baranami Palace and the Zbieraj Kino loyalty programme.

Additionally, selected Polish and foreign films will be presented with English subtitles.

Tickets cost 8 PLN
*with the exception of THE PERFECT TEN
- ten movie hits for 10 PLN each
- films marked with the icon


Films in original language versions with Polish subtitles.
Certain Polish and non-English speaking films with English subtitles.
- films marked with the icon




Official hashtag for the festival: #kinobranie2019

1st WEEK (June 28 - July 4): THE FILMS WHICH WILL CHILL YOU OUT
2nd WEEK (July 5 - 11): THE FILMS WHICH WILL DISTRESS YOU
3rd WEEK (July 12 - 18): THE FILMS WHICH WILL SURPRISE YOU
4th WEEK (July 19 - 25): THE FILMS WHICH WILL CARRY YOU AWAY
5th WEEK (July 26 - August 1): THE FILMS WHICH WILL WARM UP YOUR HEART
6th WEEK (August 2 - 8): THE FILMS WHICH WILL MOVE YOU
7th WEEK (August 9 - 15): THE FILMS WHICH WILL CHANGE YOUR LIFE
8th WEEK (August 16 - 22): THE FILMS WHICH WILL MAKE YOU LAUGH
9th WEEK (August 23 - 29): THE FILMS YOU WON'T STOP THINKING ABOUT
PROGRAMME in digital version (to download PDF click TUTAJ)
PROGRAMME:
1st WEEK (June 28 - July 4):
THE FILMS WHICH WILL CHILL YOU OUT

A COACH'S DAUGHTER | CÓRKA TRENERA
(Łukasz Grzegorzek) PL 2018, 96' PL
A TUBA TO CUBA | A TUBA TO CUBA
(T.G. Herrington, Danny Clinch) US/CU 2018, 82' EN
BOOK CLUB | BOOK CLUB
(Bill Holderman) US 2018, 113' EN
I FEEL PRETTY | I FEEL PRETTY
(Abby Kohn, Marc Silverstein) US 2018, 110' EN
LETO | LETO
(Kirył Serebrennikow) RU/FR 2018, 129' RU/EN
LONG SHOT | LONG SHOT
(Jonathan Levine) US 2019, 125' EN
LOVING VINCENT | LOVING VINCENT
(Dorota Kobiela, Hugh Welchman) PL/GB 2017, 95' EN
MY BIG GAY ITALIAN WEDDING | PUOI BACIARE LO SPOSO
(Alessandro Genovesi) IT 2017, 98' IT
OCEAN'S 8 | OCEAN'S 8
(Gary Ross), US 2019, 110' EN
PARIS CAN WAIT | PARIS CAN WAIT
(Eleanor Coppola) US 2016, 92' EN
RAMEN SHOP | RAMEN TEH
(Eric Khoo) JP/SG/FR 2018, 89' JP/EN
SERIAL (BAD) WEDDINGS | QU'EST-CE QU'ON A FAIT AU BON DIEU
(Philippe de Chauveron) FR 2014, 97' FR
SINGIN' IN THE RAIN | SINGIN' IN THE RAIN
(Stanley Donen, Gene Kelly) US 1952, 103' EN
THE ARTIST | THE ARTIST
(Michel Hazanavicius) FR 2011, 110' EN
THE BOOKSHOP | THE BOOKSHOP
(Isabel Coixet) GB, ES, DE 2018, 113' EN
THE OLD MAN & THE GUN | THE OLD MAN & THE GUN
(David Lowery) US 2018, 93' EN
THE LUNCHBOX | THE LUNCHBOX
(Ritesh Batra) IN/FR/DE 2013, 104' EN/HN

2nd WEEK (July 5 - 11):
THE FILMS WHICH WILL DISTRESS YOU

A CLOCKWORK ORANGE | A CLOCKWORK ORANGE
(Stanley Kubrick) GB/US 1971, 136' EN


BAD TIMES AT THE EL ROYALE | BAD TIMES AT THE EL ROYALE
(Drew Goddard) USA 2018, 141' EN
BEAST | BEAST
(Michael Pearce) GB 2017, 107' EN


CLERGY | KLER
(Wojciech Smarzowski) PL 2018, 135' PL


DARK, ALMOST NIGHT | CIEMNO, PRAWIE NOC
(Borys Lankosz) PL 2018, 114' PL
ETER | ETER
(Krzysztof Zanussi) PL/UA/IT/LT/HU 2018, 118' PL/UA/RU
EVERYBODY KNOWS | TODO LO SABEN
(Asghar Farhadi) ES/FR/IT 2018 132' Es/EN/CA
GUILTY | DEN SKYLDIGE
(Gustav Möller) DK 2018, 89' DK
HEREDITARY | HEREDITARY
(Ari Aster) US 2018, 118' EN
SUNSET | NAPSZÁLLTA
(László Nemes) HU 2018, 144' HU/DE
SUSPIRIA | SUSPIRIA
(Luca Guadagnino) US/IT 2018, 152' DE/FR/EN


THE BUTLER | KAMERDYNER
(Filip Bajon) PL 2018, 147' PL
THE GIRL IN THE SPIDER'S WEB | THE GIRL IN THE SPIDER'S WEB
(Fede Alvarez) GB/DE/SE/CA/US 2018, 117' EN
THE HOUSE THAT JACK BUILT | THE HOUSE THAT JACK BUILT
(Lars von Trier) DK/FR/DE/CH 2018, 155' EN
THE KINDERGARTEN TEACHER | THE KINDERGARTEN TEACHER
(Sara Colangelo) US 2018, 96' EN


WEREWOLF | WILKOŁAK
(Adrian Panek) PL 2018, 88' PL/DE/RU
VICE | VICE
(Adam McKay) US 2018, 132' EN

3rd WEEK (July 12 - 18):
THE FILMS WHICH WILL SURPRISE YOU

BASED ON A TRUE STORY | D'APRÈS UNE HISTOIRE VRAIE
(Roman Polański) FR/PL/BE 2018, 110' FR
BIRDS OF PASSAGE | PÁJAROS DE VERANO
(Cristina Gallego, Ciro Guerra) CO/MX/DE 2018, 125' varia
FOXTROT | FOXTROT
(Samuel Maoz) IS/CH/DE/FR 2018, 113' Hebrew
HAPPY AS LAZZARO | LAZZARO FELICE
(Alice Rohrwacher) IT/CH/FR/DE 2018, 125' IT


ISLE OF DOGS | ISLE OF DOGS
(Wes Anderson) DE/US 2018, 101' EN/JP
LORO | LORO
(Paolo Sorrentino) IT/FR 2018, 157' IT
MARY QUEEN OF SCOTS | MARY QUEEN OF SCOTS
(Josie Rourke) GB 2018, 125' EN


MONUMENT | MONUMENT
(Jagoda Szelc) PL 2018, 108' PL
ON CHESIL BEACH | ON CHESIL BEACH
(Dominic Cooke) GB 2018, 110' EN
THE CLEANERS | THE CLEANERS
(Hans Block, Moritz Riesewieck) DE/BR 2018, 88' EN


THE FAVOURITE | THE FAVOURITE
(Yorgos Lanthimos) IE/GB/US 2018 120' EN


THE MESSENGER | KURIER
(Władysław Pasikowski) PL 2018, 114' PL/EN


THE MULE | THE MULE
(Clint Eastwood) USA 2018, 116' EN/ES
THE SISTERS BROTHERS | THE SISTERS BROTHERS
(Jacques Audiard) FR/ES/RO/BE/US 2018, 122' EN
THE SKIN I LIVE IN | LA PIEL QUE HABITO
(Pedro Almodóvar) ES 2011, 117' ES
UNDER THE SILVER LAKE | UNDER THE SILVER LAKE
(David Robert Mitchell) US 2018, 139' EN
UNDER THE TREE | UNDIR TRÉNU
(Hafsteinn Gunnar Sigurðsson) IS 2018, 89' IS
US | US
(Jordan Peele) US 2018, 120' EN

4th WEEK (July 19 - 25):
THE FILMS WHICH WILL CARRY YOU AWAY

A STAR IS BORN | A STAR IS BORN
(Bradley Cooper) US 2018, 135' EN
BERLIN CALLING | BERLIN CALLING
(Hannes Stöhr) DE 2008, 100' DE


BOHEMIAN RHAPSODY | BOHEMIAN RHAPSODY
(Bryan Singer) GB/US 2018,135' EN
CLIMAX | CLIMAX
(Gaspar Noé) FR 2018, 97' FR/EN


DOLCE FINE GIORNATA | DOLCE FINE GIORNATA
(Jacek Borcuch) PL 2019, 90' FR/IT/EN
EL ANGEL | EL ÁNGEL
(Luis Ortega) AR/ES 2018, 115' ES


FIRST MAN | FIRST MAN
(Damien Chazelle) US 2018, 141' EN
FREE SOLO | FREE SOLO
(Jimmy Chin, Elizabeth Chai Vasarhelyi) US 2018, 100' EN
LA LA LAND | LA LA LAND
(Damien Chazelle) US 2016, 128' EN
LOVING PABLO | LOVING PABLO
(Fernando León de Aranoa) ES/BG 2018, 123' ES
MCQUEEN | MCQUEEN
(Ian Bonhôte, Peter Ettedgui) UK 2018, 111' EN
MR GAGA | MR GAGA
(Tomer Heymann) IL/SE/DE/ND 2015, 104' EN/Hebrew
ONLY LOVERS LEFT ALIVE | ONLY LOVERS LEFT ALIVE
(Jim Jarmusch) US 2013, 122' EN/FR/AR/TR
ROMAN HOLIDAY | ROMAN HOLIDAY
(William Wyler) US 1953, 118' EN/IT/DE
THE MERCY | THE MERCY
(James Marsh) GB 2018, 101' EN/ES
THE WHITE CROW | THE WHITE CROW
(Ralph Fiennes) GB 2018, 127' EN/RU/FR
UNDERGROUND | UNDERGROUND
(Emir Kusturica) FR/DE/HU/YUG 1995, 163' DE/FR/EN/RO/RS
VOX LUX | VOX LUX
(Brady Corbet) US 2019, 110' EN

5th WEEK (July 26 - August 1):
THE FILMS WHICH WILL WARM UP YOUR HEART

A STREETCAR NAMED DESIRE | A STREETCAR NAMED DESIRE
(Elia Kazan) US 1961, 122' EN
BREAKFAST AT TIFFANY'S | BREAKFAST AT TIFFANY'S
(Blake Edwards) US 1961, 115' EN/PT
CALL ME BY YOUR NAME | CALL ME BY YOUR NAME
(Luca Guadagnino) IT 2018, 132' IT/EN/FR/DE
DISOBEDIENCE | DISOBEDIENCE
(Sebastián Lelio) US 2017, 114' EN


GREEN BOOK | GREEN BOOK
(Peter Farrelly) US 2018, 133' EN
I AM LOVE | IO SONO L'AMORE
(Luca Guadagnino) IT 2009, 120' IT
LIFE ITSELF | LIFE ITSELF
(Dan Fogelman) US/ES 2018, 118' EN/ES
MAMMA MIA. HERE WE GO AGAIN | MAMMA MIA. HERE WE GO AGAIN
(Ol Parker) US/GB 2018, 114' varia
MIRAI | MIRAI NO MIRAI
(Mamoru Hosoda) JP 2017, 100' JP
MUSTANG | MUSTANG
(Deniz Gamze Ergüven) FR/TR 2015, 97' TR


NINA | NINA
(Olga Chajdas) PL 2018, 129' PL
STEALING BEAUTY | STEALING BEAUTY
(Bernardo Bertolucci) IT/FR/GB 1996, 114' EN/FR/DE/ES/IT
THE FLORIDA PROJECT | THE FLORIDA PROJECT
(Sean Baker) US 2017, 115' EN

6th WEEK (August 2 - 8):
THE FILMS WHICH WILL MOVE YOU

53 WARS | 53 WOJNY
(Ewa Bukowska) PL 2018, 83' PL


7 EMOTIONS | 7 UCZUĆ
(Marek Koterski) PL 2018, 116' PL


ANOTHER DAY OF LIFE | ANOTHER DAY OF LIFE
(Damian Nenow, Raúl de la Fuente) PL/ES/BE/DE/HU 2018, 85' PL/PT
ARCTIC | ARCTIC
(Joe Penna) IS 2018, 97' EN
BEAUTIFUL BOY | BEAUTIFUL BOY
(Felix van Groeningen) US 2018, 121' EN
BEN IS BACK | BEN IS BACK
(Peter Hedges) US 2018, 103' EN
CAPERNAUM | CAPHARNAÜM
(Nadine Labaki) LB/US 2018, 126' AR/AM


GIRL | GIRL
(Lukas Dhont) NL/BE 2018, 105' FR/NL/EN


LOVELESS | NELYUBOV
(Andriej Zwiagincew) RU/FR/BE/DE 2017, 127' RU


PLAYING HARD | ZABAWA ZABAWA
(Kinga Dębska) PL 2018, 88' PL
THE DAWN WALL | THE DAWN WALL
(Josh Lowell, Peter Mortimer) AT 2017, 100' EN
WILDLIFE | WILDLIFE
(Paul Dano) US 2018, 104' EN
WHITNEY | WHITNEY
(Kevin Macdonald) GB/US 2018, 120' EN

7th WEEK (August 9 - 15):
THE FILMS WHICH WILL CHANGE YOUR LIFE

BLACKKKLANSMAN | BLACKKKLANSMAN
(Spike Lee) US 2018, 128' EN


COLD WAR | ZIMNA WOJNA
(Paweł Pawlikowski) PL/GB/FR 2018, 88' PL/FR/DE/HR
IF BEALE STREET COULD TALK | IF BEALE STREET COULD TALK
(Barry Jenkins) US 2018, 120' EN
LA STRADA | LA STRADA
(Federico Fellini) IT 1954, 109' IT
MINDING THE GAP | MINDING THE GAP
(Bing Liu) US 2018, 93' EN
ROMA | ROMA
(Alfonso Cuarón) MX/US 2018, 135' ES


SONS OF DENMARK | SONS OF DENMARK
(Ulaa Salim) DK 2019, 119' DK
THE GREAT BEAUTY | LA GRANDE BELLEZZA
(Paolo Sorrentino) IT/FR 2013, 144' IT/JP/ES/ZN


THE MATRIX | THE MATRIX
(Lilly Wachowski, Lana Wachowski) US 1999, 136' EN
THE MATRIX TRILOGY:
THE MATRIX | THE MATRIX
(Lilly Wachowski, Lana Wachowski) US 1999, 136' EN
THE MATRIX RELOADED | THE MATRIX RELOADED
(Lilly Wachowski, Lana Wachowski) US 2003, 138' EN
THE MATRIX REVOLUTIONS | THE MATRIX REVOLUTIONS
(Lilly Wachowski, Lana Wachowski) US 2003, 129' EN

8th WEEK (August 16 - 22):
THE FILMS WHICH WILL MAKE YOU LAUGH

C'EST LA VIE! | LE SENS DE LA FÊTE
(Olivier Nakache, Éric Toledano) BE/CA/FR 2017, 117' FR
CRAZY RICH ASIANS | CRAZY RICH ASIANS
(Jon M. Chu) US 2018, 121' EN/Mandarin/FR


JULIUS | JULIUSZ
(Aleksander Pietrzak) PL 2018, 98' PL
MOONRISE KINGDOM | MOONRISE KINGDOM
(Wes Anderson) US 2012, 94' EN
PERFECT STRANGERS | PERFETTI SCONOSCIUTI
(Paolo Genovese) IT 2016, 97' IT


PLANET SINGLE 3 | PLANET SINGLE 3
(Sam Akina, Michał Chaciński) PL 2018, 102' PL
SORRY TO BOTHER YOU | SORRY TO BOTHER YOU
(Boots Riley) US 2018, 112' EN
THE EXTRAORDINARY JOURNEY OF THE FAKIR
| THE EXTRAORDINARY JOURNEY OF THE FAKIR
(Ken Scott) FR/US/BE/SG/IN 2018, 92' EN


THE GRAND BUDAPEST HOTEL | THE GRAND BUDAPEST HOTEL
(Wes Anderson) US/DE 2014, 100' EN/FR/DE

9th WEEK (23 - 29 August):
THE FILMS YOU WON'T STOP THINKING ABOUT

DOGMAN | DOGMAN
(Matteo Garrone) IT/FR 2018, 102'
EXTREMELY WICKED, SHOCKINGLY EVIL AND VILE
| EXTREMELY WICKED, SHOCKINGLY EVIL AND VILE
(Joe Berlinger) US 2019, 108'
FANNY AND ALEXANDER | FANNY OCH ALEXANDER
(Ingmar Bergman) SE/FR/DE 1982, 188'


FUGUE | FUGA
(Agnieszka Smoczyńska) PL 2018, 103'
HIGH LIFE | HIGH LIFE
(Claire Denis) DE/FR/GB/PL/US 2018, 110'


OF FATHERS AND SONS | OF FATHERS AND SONS
(Talal Derki) DE/US/NL/LB/SY/QA 2019, 103'


SHOPLIFTERS | MANBIKI KAZOKU
(Hirokazu Koreeda) JP 2018, 121'
THE WIFE | THE WIFE
(Björn Runge) SE/GB/US 2018, 100'


THE WILD PEAR TREE | AHLAT AĞACI
(Nuri Bilge Ceylan) TR/MK/FR/DE/BG/BA/SE 2018, 188'


THREE BILLBOARDS OUTSIDE EBBING, MISSOURI
| THREE BILLBOARDS OUTSIDE EBBING, MISSOURI
(Martin McDonagh) US 2017, 115'


TOWER. A BRIGHT DAY. | WIEŻA. JASNY DZIEŃ.
(Jagoda Szelc) PL 2017, 111'